Guest Lecturer Lucie Thirnbeck
Studio Taxes Q & A
Saturday February 10th
2pm-4pm
7108 188st NW Edmonton
Lucie Thirnbeck has her diploma in accounting and has been doing personal income taxes in the Edmonton area for the last 25 years. She has been self-employed since 2000 and has been a guest lecturer, on studio taxes, for ARMTA's STAFF club in the past. Lucie is looking forward to returning and answering any tax questions that people have.
Payment can be made by bringing cash to the door
OR
Sending an e-transfer to christina.music.studio@gmail.com
RSVP before each meeting to Christina Kolos using the form below
OR Click here for printable registration form AND email or phone Christina:
christina.music.studio@gmail.com
780-686-8718
---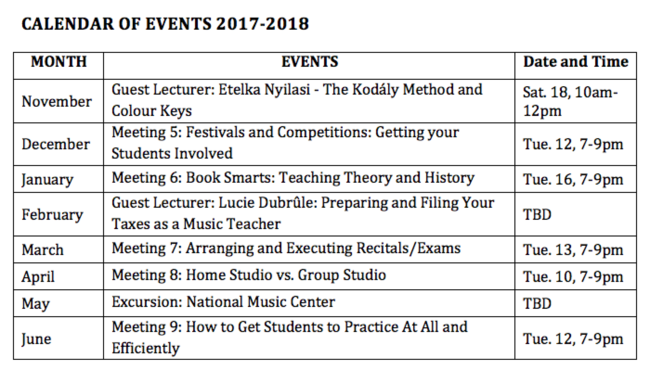 1. Meetings and Lectures
As this pedagogy group is a direct affiliate of the ARMTA Edmonton Branch there are discounts with being ARMTA affiliated. To be affiliated you must either be registered as a 'full' or 'affiliated' member of ARMTA, or be a student of a registered 'full' or 'affiliated' member of ARMTA.
2. Excursions
The costs of excursions will be based on how many are interested in participating and what we are able to budget for each excursion closer to departure dates.
3. Budget Allocation:
Money received from members as well as the small starter sum from ARMTA Edmonton will be used for:
-Beverages and snacks for meetings and lectures
-Printing and other business costs
-Guest Lecturers
-Travel and Excursion costs
Meeting Fee:
ARMTA Affiliate: $10 (or $80 for all 9)
Non Affiliate: $15 (or $120 for all 9)
Lecture Fee:
ARMTA Affiliate: $15
Non-Afilliate: $20
4. Method of Payment
Because we are a new start up and have a modest budget it is not realistic at this time to open a bank account. As such, currently all payments must be made in CASH only. Receipts will be available. We apologise for the inconvenience and hope that we can revisit this problem in the future and come up with a solution.
GUEST LECTURES
Once Guest Lecturers are booked, registration will be opened. To ensure attendance, which was a complaint in the past with STAFF Club, lecture fees must be paid in full and returned with an event registration slip at least 2 weeks before the lecture. In the event of a cancelation, all fees will be returned in full. However, if you have paid for a lecture but do not attend, your lecture fee is forfeit.
Cancelations may be made in the event that the guest lecturer can no longer commit, or if the amount of people registered is not high enough. A minimum of five people must be registered by registration deadline to go forward with a lecture.
MEETING FORMAT
Meetings and Lectures will follow the same general format.
7:00-7:15pm Visit with colleagues and enjoy food and drink.
7:15-7:55pm Presentations, lectures, and demonstrations 7:55-8:05pm Break
8:05-8:45pm Q+A session/debate.
8:45-9:00pm Wrap up and visiting.
This format is just a general guideline. Actual meetings and lectures may vary based on content and how quickly content is covered.
Meeting Location:
7108 188st NW Edmonton