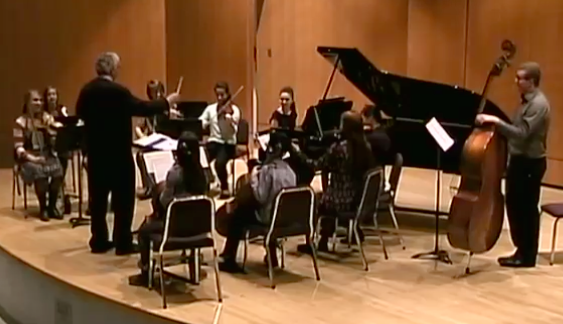 Students will have the chance to play Clementi Sonatinas with members of the Edmonton Youth Orchestra. The Edmonton Youth Orchestra's conductor Mr. Michael Massey has arranged the 2nd piano parts for strings.
Choose to play ONE movement from the 6 Clementi Sonatinas Op. 36
Sunday, February 4, 2018, 1:00-4:30pm
Muttart Hall, Alberta College
Doors open & check in: 1:00pm
Performance begins: 1:30pm
Fee for participants: $25
General admission at the door: by donation
REGISTRATION OPENS WEDNESDAY, NOVEMBER 15 at 9am.
Only ONE student per teacher!
NO Video Recording of any kind permitted.

When registering you will need the following information to fill in the online form:
Participant's first & last name, phone number & email.
Teacher's name & email.
If paying by credit card:
Card holder's name, address including postal code, card #, expiry, CVC number.
If paying by cheque:
Mail or drop off payment ASAP to the address you will see on screen to confirm your registration.
---
To rehearse with your students:
Book Two (Op. 36 #2, #5, #6) of the second piano arrangements is available from music stores.
Book One (Op. 36 #1, #3, #4) is out of print & Madeleine Graham will provide a photocopy for use in your studio.
mgmusic@telusplanet.net
Guidelines:
Only ONE performer per movement will be permitted. The first person who registers for a particular movement will be selected to play it. See grade levels of all Clementi Op. 36 Sonatinas below.
Limit: 1 student entry per teacher. (If we do not have enough performers, we will accept more students per teacher.)
TEACHERS: Secure preparation is required but MEMORIZATION IS NOT REQUIRED. Performance protocol is to be guided by the teacher in reference to the following: appropriate stage dress & bowing to the audience after the performance.
Young children attending as guests of the performers must be able to sit quietly for the duration of the recital.
REGISTER HERE:
You will receive a confirmation email after registering.
If you do not receive a confirmation email within a few minutes, send an email to event@armta.ca right away as your registration may not have gone through.
You will also receive an email after your payment is confirmed.
---
RCM Grade levels:
Grade 3:
Op. 36, #1, mvt 1, 2, 3
Grade 4:
Op. 36, #2, mvt 2, 3
Grade 5:
Op. 36, #2, mvt 1
Op. 36, #3, mvt 3
Op. 36, #5, mvt 3
Grade 6:
Op. 36, #4, mvt 1, 2, 3
Grade 7:
Op. 36, #3, mvt 1
Op. 36, #6, mvt 1, 2
Grade 8:
Op. 36, #5, mvt 1
Not Listed in RCM:
Op. 36, #3, mvt 2, approx. Gr. 3
Op. 36, #5, mvt 2, approx. Gr. 4